Together, we're helping children and families displaced by conflict and persecution
12 million children under age 8 have been displaced in the global refugee crisis—and that number is on the rise. They've lost homes and loved ones, seen violence, and endured the types of trauma that lead to toxic stress. This has long-term effects on children's lives, and ultimately impacts society at large.
But we can help.
When children in crisis have opportunities to learn, they can grow and thrive—into a better future. Together, Sesame Street and the IRC are creating a transformative early childhood development program designed to reflect the unique experiences of displaced families in the Syrian response region. Reaching children, parents, and caregivers wherever they are—from classrooms to health clinics to mobile devices—the program will address immediate needs and help build a strong foundation for future well-being.
---
100&Change Finalist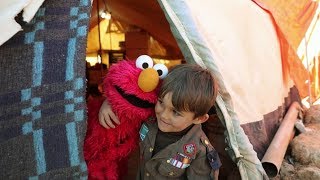 We're honored to be among four finalists for the MacArthur Foundation's 100&Change grant. The global competition will award $100 million to a single proposal promising "real and measurable progress" toward solving one critical problem of our time. With initial funding from the Bernard van Leer Foundation and Open Society Foundations, we've already launched a pilot program in Jordan—this grant would allow us to replicate our efforts on a grand scale—and bring life-changing education to a generation that hangs in the balance.
Learn more about the MacArthur Foundation's 100&Change competition.
"If we can reach these children, we can teach these children. By giving them the benefits of early education, Sesame Workshop and IRC can change their trajectory and afford them the chance for a successful future."
Sherrie Westin
EVP Global Impact and Philanthropy
Sesame Workshop
"Our partnership with Sesame Workshop will help transform children's lives by making sure that their social-emotional needs are met so they are able to receive an education, contribute to their community, and succeed as adults."
David Miliband
President and CEO
International Rescue Committee